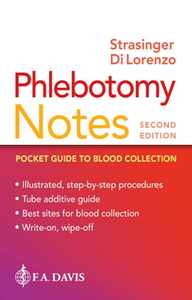 Phlebotomy Notes : Pocket Guide to Blood Collection, 2nd Edition
by Susan King Strasinger and Marjorie Schaub Di Lorenzo
English | 2020 | ISBN: 0803675658 | 215 Pages | PDF | 42 MB
This reference provides great information on phlebotomy techniques, with nice summaries of procedures with many photos and illustrations. It is ideal for clinical rotations, for quick review of coursework, and to study in preparation for your certification exam. Clinically focused, it's the perfect guide to collecting, transporting, and processing quality blood specimens for laboratory testing.
"It has a lot of information, with step-by-step instructions with pictures. This is essential if you will be doing any phlebotomy of any kind." – Pamela O., Amazon Reviewer
"These Phlebotomy Notes were very helpful overviewing all key notes for my Exam and while doing my Clinicals, very easy to navigate. Will continue to use it through my Career in Phlebotomy." – Cali, Amazon Reviewer
If you want to support my blog, then you can buy a premium account through any of my files (i.e. on the download page of my book). In this case, I get a percent of sale and can continue to delight you with new books!