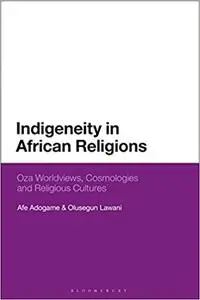 Afe Adogame, "Indigeneity in African Religions: Oza Worldviews, Cosmologies and Religious Cultures"
English | ISBN: 1350008265 | 2021 | 280 pages | PDF | 30 MB
Based on religious ethnography, in-depth interviews and archival data, Indigeneity in African Religions explores the historical origins, worldviews, cosmologies, ritual symbolism and praxis of the indigenous Oza people in South West Nigeria. The author's locationality and positionality plugs the book within decolonizing knowledges and indigeneity discourses, thus unpacking the complexity of "indigeneity" and contributing to its conceptual understanding within socioreligious change in contemporary Africa.
The future of Oza indigeneity in the face of modernity is illuminated against the backlash of encounters, contestations with multiple hegemonies, transmissions of Christianity and Islam and indigenous (re)appropriations. Thus, any theorizations of such encounters must be cognizant of instantiations of indigeneity politics and identity, culture, tradition and power dynamics. Through decolonizing burdens of history, memory and method, Afe Adogame demonstrates a framework of understanding Oza indigenous religious,sociocultural and political imaginaries.
Read more