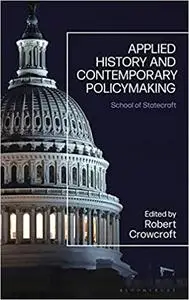 Robert Crowcroft, "Applied History and Contemporary Policymaking: School of Statecraft"
English | ISBN: 1350177024 | 2022 | 272 pages | PDF | 5 MB
Robert Crowcroft has assembled a world-class, international cast of outstanding scholars and international figures to produce a stimulating collection of essays on applied history and policy making. With contributors such as Philip Bobbitt, Margaret MacMillan, and Jeremy Black, this collection of essays addresses some of the most important geopolitical challenges confronting the world today. From reconstructing collapsed political regimes to security competition in the China Seas and the evolution of Salafi-Jihadi ideology, it explores a range of statecraft, policy, and strategy.
The essays span a number of policy areas and historical problems, tackling important questions about what historians do (and should do), and considering the nature and limits of historical judgement. With some examining how applied history can be used to rethink contemporary challenges, others explore how it has been used and abused in the past. Making a splash in intellectual debate by making a definitive case for Applied History, this book demonstrates that a knowledge of the past, and the insight it provides, is imperative to effective statecraft.
Read more