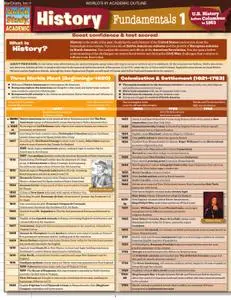 History Fundamentals 1 (Quick Study Academic) by Expert Editions
English | July 20th, 2010 | ISBN: 1423214277 | 4 pages | True PDF | 1.40 MB
Covering U.S. history from before Columbus through 1865, our guide covers critical aspects of this time period, such as Native American culture, the 13 Colonies, the Revolutionary War and the Civil War. Key events, figures and concepts are concisely explained for this grade range, and callout features illustrate our nation's Constitution and government structure.
Divided chronologically to help middle-schoolers gain a better understanding of historical perspective, this guide's sections/topics include:
• Three Worlds Meet (beginnings–1620)
• Colonization & Settlement (1621–1753)
• Revolution & a New Nation (1754–1783)
• The Young Republic (1784–1802)
• Expansion & Change (1803–1849)
• The Civil War & Its Causes (1850–1865)
• And much more!
Enjoy
My Blog.
No any convert or low quality!