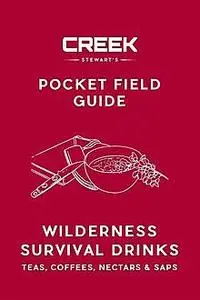 «POCKET FIELD GUIDE» by Creek Stewart
English | EPUB | 3.6 MB
This full color guide details 21 wild edible drinks, divided into three categories: Wild Coee-Like Brews, Cold WildDrinks, and Hot Wilderness Teas.  From harvesting and preparation, never has drinking in the wilderness been so much fun — and interesting!
From Tulip Poplar Nectar Shots and Black Locust Blossom Tea to Roasted Chicory Root Coffee and Mesquite Pod Smoothies, many people have no idea how many delicious drinks can be harvested from the wild places.  Survival Instructor Creek Stewart complies years of taste-testing into one easy to use and understand pocket guide.