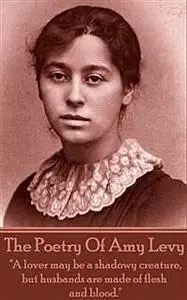 «The Poetry Of Amy Levy» by Amy Levy
English | EPUB | 0.0 MB
Amy Levy was born in London, England in 1861, the second of seven in a fairly wealthy Anglo-Jewish family. The children of the family read and participated in secular literary activities becoming firmly integrated into Victorian life. Her writing career was to begin early; her poem &quote;Ida Grey&quote; appearing when she was only fourteen. Her stories &quote;Cohen of Trinity&quote; and &quote;Wise in Their Generation,&quote; were published by Oscar Wilde in his magazine &quote;Women's World,&quote; and are considered among her best. Her first novel Romance of a Shop, written in 1888 is based on four sisters who experience the pleasures and hardships of running a business in London during the 1880s. This was followed by Reuben Sachs (also 1888) and concerned with Jewish identity and mores in the England of her time and therefore somewhat controversial); Her other writings reveal feminist concerns; Xantippe and Other Verses, from 1881 includes a poem in the voice of Socrates's wife; the volume A Minor Poet and Other Verse from 1884 has dramatic monologues and lyric poems. In 1886, Levy began a series of essays on Jewish culture and literature for the Jewish Chronicle, including The Ghetto at Florence, The Jew in Fiction, Jewish Humour and Jewish Children. That same year while travelling in Florence she met writer Vernon Lee. It is generally assumed they fell in love and this inspired the poem 'To Vernon Lee'. Her final book of poems, A London Plane-Tree from 1889, shows the beginnings of the influence of French symbolism. Despite many friendships and active life, Amy had suffered for a long time with major depression and this, together with her growing deafness, led her to commit suicide by inhaling carbon monoxide on September 10, 1889, at the age of twenty-seven.