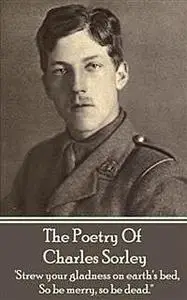 «The Poetry Of Charles Sorley» by Charles Sorley
English | EPUB | 0.0 MB
Charles Hamilton Sorley was born in Aberdeen on 19 May 1895. Charles was an exceptional child with an intelligence beyond his years. By 1900 the family had moved to Cambridge. Charles then continued his education at Marlborough College. A debater of some note he won a scholarship to University College, Oxford. Before taking up his studies Charles decided a year in Germany was to his liking. So in 1913 he went first to Mecklenburg and then to the University of Jena. However with war declared it was obviously not safe to be British and to be in Germany. Charles was interned at Trier but was released after an overnight stay with specific instructions to leave the Country. Charles returned to England and immediately sought to sign up. He enlisted with the Suffolk Regiment as a second lieutenant. When he arrived at the front in France on May 3oth 1915 he was a full Lieutenant. He served near Plogsteert and was promoted to Captain in August. Charles Sorley was killed, shot in the head by a sniper, at the Battle of Loos, on 13 October 1915. His death robbed the world of a talent that would have much to say and of course say it in a way that was quite extraordinary.