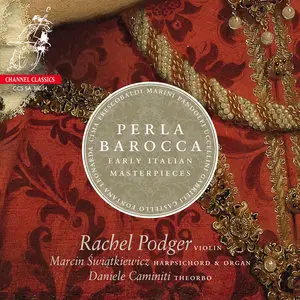 Rachel Podger, Marcin Świątkiewicz, Daniele Caminiti - Perla Barocca: Early Italian Masterpieces (2014)
FLAC (tracks) 24 bit/192 kHz | Time - 69:53 minutes | 3,08 GB
FLAC (tracks) 24 bit/96 kHz | Time - 69:53 minutes | 1,45 GB
Studio Master, Official Digital Download | Artwork: Digital booklet
After winning the Instrumental category in the BBC Music Magazine Awards 2014 for Guardian Angel, Rachel and her record label Channel Classics are back with a new CD, Perla Barocca. Including works by Frescobaldi, Gabrieli, Pandolfi & Fontana amongst others, this beautiful collection of masterpieces showcases sublime examples of the early Italian Baroque. Some composers dominate the repertory; others have left behind only a handful of works. Here, they come together to convey the diverse musical landscape of such an excitingly rich and creative era, Perla Barocca.
The instrumental music of the 17th century has always taken second place to that of the High Baroque, with its clear, graspable structures, in the minds of general listeners. But this release by British historical-instrument specialist Rachel Podger and Polish keyboardist Marcin Swiatkiewicz, with theorbist Daniele Caminiti, may change that situation. Podger does well to focus on a single genre, the sonata; the music here is for the most part not well known (although, as with other collections from the period, the inclusion of Girolamo Frescobaldi goes to show how far he was above his contemporaries and successors). From the point of view of the modern listener these sonatas are partly interesting for what they give birth to, but for listeners in their own time they would have been new, daring, possessed of a free spirit of fantasy. This is what Podger inhabits: she does not just play the notes, but captures the surprise in this music. Along the way is a work from the first set of sonatas composed by a woman, the nun Isabella Leonarda, whose some 200 works mostly remain to be investigated. Swiatkiewicz breaks things up with keyboard-only pieces, and the album will make the listener want to hear a solo release from him in this repertory. But for a taste of the unknown riches that await, sample the Sonata Sesta, from Op. 4 of the almost absolutely undocumented composer Giovanni Antonio Pandolfi Mealli, who, the booklet jokes, could almost have been invented by musicologists on a rainy afternoon. Hear the way he evolves spectacular violin fireworks out of an almost shapeless background, and how Podger puts across just how striking this would have seemed in 1690. Podger's 1739 Pesarinius violin is ideally suited to this repertory, and she receives superb engineering support of Channel Classics wizard Jared Sacks, working in the Westvest Schiedam concert hall. A specialist release, perhaps, but certainly one of general interest.
Tracklist:
01 - Sonata Seconda
02 - Toccata Prima
03 - Sonata overo Toccata quinta a violino solo
04 - Sonata Seconda
05 - Sonata quatro per sonar con due corde
06 - Toccata per Spinettina e Violino
07 - Sonata Sesta (Op 4, 1690) La Vinciolina
08 - Sonata Duodecima
09 - Ricercar del Primo Tono
10 - Sonata a due, Milano 1610
11 - Chiacona
Recording Engineer & Mastering by Jared Sacks.
Musicians:
Rachel Podger - violin
Marcin Świątkiewicz - harpsichord & organ
Daniele Caminiti - theorbo
Analyzed: Rachel Podger, Marcin Świątkiewicz, Daniele Caminiti / Perla Barocca: Early Italian Masterpieces
––––––––––––––––––––––––––––––––––––––––

DR Peak RMS Duration Track
––––––––––––––––––––––––––––––––––––––––
DR14 -7.34 dB -25.14 dB 6:59 01-Sonata Seconda
DR12 -12.20 dB -28.10 dB 4:04 02-Toccata Prima
DR14 -5.10 dB -23.96 dB 6:14 03-Sonata overo Toccata quinta a violino solo
DR10 -4.78 dB -20.29 dB 5:33 04-Sonata Seconda
DR11 -5.08 dB -22.36 dB 9:28 05-Sonata quatro per sonar con due corde
DR14 -6.69 dB -24.81 dB 3:54 06-Toccata per Spinettina e Violino
DR14 -7.93 dB -25.63 dB 6:49 07-Sonata Sesta (Op 4, 1690) La Vinciolina
DR11 -9.03 dB -23.61 dB 9:39 08-Sonata Duodecima
DR9 -9.95 dB -22.46 dB 3:22 09-Ricercar del Primo Tono
DR11 -7.59 dB -21.78 dB 5:06 10-Sonata a due, Milano 1610
DR16 -0.31 dB -22.17 dB 8:46 11-Chiacona
––––––––––––––––––––––––––––––––––––––––

Number of tracks: 11
Official DR value: DR12

Samplerate: 192000 Hz
Channels: 2
Bits per sample: 24
Bitrate: 6051 kbps
Codec: FLAC
================================================================================


Thanks to the Original customer!