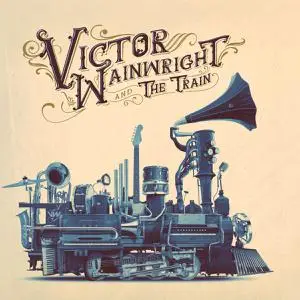 Victor Wainwright - Victor Wainwright and the Train (2018)
XLD Rip | FLAC (tracks+log+.cue) - 389 Mb | MP3 CBR 320 kbps - 142 Mb | 01:01:45
Modern Electric Blues | Label: Ruf Records
It had to be a train. The name of Victor Wainwright's new band - and the sleeve image of their debut album - is also the most fitting of metaphors. In music folklore, the train might have associations with the freight-hopping bluesmen of yore, but with this restless boogie-woogie innovator stoking the furnace, this project is a charging locomotive - surging forward, crashing through boundaries of genre, sweeping up fresh sounds and clattering headlong past the doubters. At a sweet-spot in his career, where most established stars would rest on their laurels, Victor Wainwright & The Train instead rips up all that has gone before. These twelve tracks are originals in every sense, written by Wainwright, pricking up ears in a sterile music industry and stretching the concept of roots in bold directions. The result is an album that walks a tightrope between scholarly respect and anarchic irreverence. On this white-knuckle ride, only The Train could keep the material on the tracks. "I ended up with a hit-squad of downright amazing musicians," he reflects, "that shared my curiosity for all corners of the roots genre. We wanted to capture how we feel performing, right smack-dab on this record, and I believe we've done that. Now I just try to keep up…"