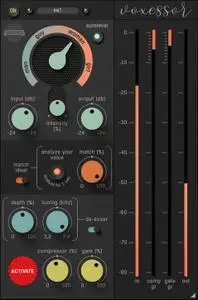 Soundevice Digital Voxessor v1.0 WiN | 13 Mb
A voice that cuts through your videos and films like a hot knife through butter. A voice that is instantly recognized and always understood. Speech that is strong and well balanced. That is the kind of speech you need. That is the kind of voiceover Voxessor delivers.
Perfect voice-over in no time
If you create movies, podcasts, youtube videos, commercials, e-books or have any other special need to cultivate recorded speech, you need Voxessor. It covers all processes needed to treat the voice and works with incredible speed.
Sweep for the ideal character
To EQ human voice properly you have to set up several points. Ideal frequencies to tweak and their Qs differ according to the speaker's character. With Voxessor you may skip the search for these points. Simply sweep from the manliest to the girliest EQ setting and you are set up within a few seconds.
Intelligent matching
As if the finest EQ sweep was not enough, you may combine this feature with Voxessor's Intelligent Matching. Engaging the learn button (Analyze your voice) for a few seconds will detect your speaker's voice character. The Match function will then EQ it to sound as close to the ideal voice as possible.